AGAINST ALL ODDS TATTOO & PIERCING
Hand Crafted, Responsibly Produced, Professional Tattoos & Body Piercing
Against All Odds Tattoo Shop is the best tattoo shop serving the Auburn/Opelika (AL) area. We have award winning artists working in a clean, friendly, and comfortable environment. Stop by for your free consultation. We look forward to serving you!
Make sure to follow us on social media to stay updated on all our latest news.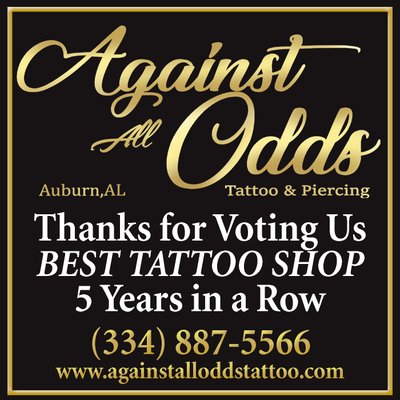 Recent Tattoos From Our Resident Artists
Take a Tour of Our Studio
I can't say enough good things about Against All Odds! The guys run a clean, "above board" shop, and do beautiful work. You know the tattoo shops that are full of arrogant pricks who emit the vibe that you're lucky to be in their presence? You won't find a trace of that here.
David Carter tattooed my daughter and he was professional and thoughtful at every turn. We never felt rushed and he patiently fleshed out several ideas with her. She is beyond thrilled with the results!
I had an opportunity to chat with Thomas, the owner, and he's very passionate about the shop. We will definitely be back. Lela Barker
Had an great experience from the moment I walked into the shop, to the moment my art work was finish. Such a relaxing, laid back, friendly atmosphere. Thomas did an amazing piece for me, and I'm blow away by his talent. If your looking for a great tattoo in a clean laid back environment at great price. This is your shop. Give them a call.
The staff made me feel welcome and comfortable, and Ryan is not only an amazing artist but helped guide my idea into reality. I can not recommend them enough, and especially Ryan Gage!
edit 10/27/17: Caroline was incredibly professional and her station was clean and well prepared when I arrived. She was also super fast during a very painful piercing; it was over before I knew it! She takes pride in her work and it shows. Josh Vinson
I went to against Against All Odds yesterday to be tattooed by David. He was incredibly professional, knowledgeable, and enjoyable to work with – I was pretty nervous with how badly it would hurt due to placement (I also haven't been tattooed in like, three years, and my first tat wasn't the best), however David was incredibly gentle and took his time to make me feel comfortable and to ensure that I was entirely satisfied with the design, placement, sizing, etc. I really enjoyed my experience and getting to know David as an artist! I recommend anybody looking to get something done to reach out to him :–)
PHONE:
334-887-5566
ADDRESS:
1456 Opelika Rd
Auburn, Alabama 36830
HOURS:
Monday – Thursday
12–8PM
Friday & Saturday
12–10PM
Sunday
1–6PM